Design and Construction of a 13 foot sailing skiff
in McAllen, Texas, USA
part 4
Gerard Mittelstaedt with help from friends.

----------------------
Hull finishing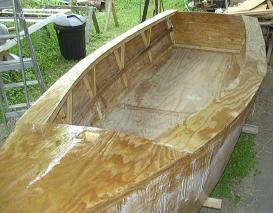 Side deck applied on April 1, 2003.

The inside bottom will be fiberglassed, in epoxy, as will the top of the decks.
Decisions on exactly where and how to mount the leeboards have yet to be made,
and sailing rig details are still to be decided.
There will be a number of rowlocks installed to allow rowing from a variety of positions.

The boat was turned over, and sanded, given a second coat of epoxy, then sanded again preparatory to painting.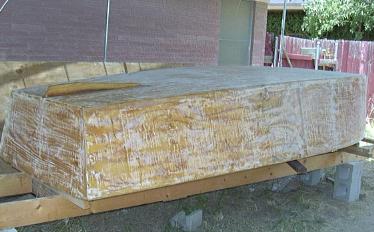 During evening of June 11, 2003 a skeg was added to the flat bottom to help tracking.
Then, late in the evening of June 12th, after the tempreture lowered into the mid 90deg F. range (and it was cool enough to work) the little boat turned green.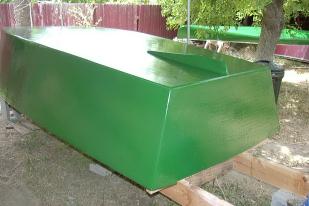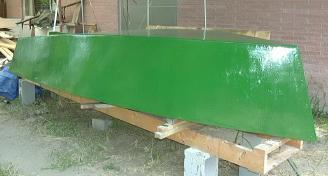 And so did the canoe in the background.

---

23 June 2003 - shaped and installed the leeboard rub rails, which are needed to give the leeboards a more perpendicular aspect given the amount of flair that the sides of the boat have, as well as provide a straight rubbing surface. I opted for more traditional top pivoted leeboards after looking at those used on Thames sailing barges, and traditional Dutch vessels. This decision was made for aesthetic reasons and because they are simpler mechanically.
I am holding a cardboard mock-up of a leeboard.
....
Coamings were installed the evening of June 24, set in epoxy, and gunwales were installed the evening of June 25, set on with generous amounts of polyurethane adhesive/caulk. The sheer line is now more clearly visable.



Picture taken noon, 26 June 2003

---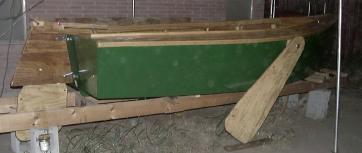 on left, rudder up - shallow water and launching on right, rudder down - normal sailing.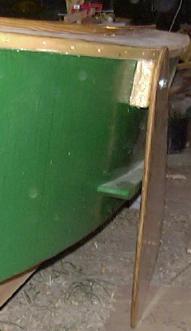 leeboard attachment detail.
Pictures taken 29 July 2003
---
Return to 13 foot boat - part 1
---
To 13 foot boat - part 2a
To 13 foot boat - part 5 - Launching and First Sail