Design and Construction of a 13 foot sailing skiff
in McAllen, Texas, USA
Gerard Mittelstaedt with help from friends.

The first part of building started about 1 Nov. 2002 and it was launched 3 August 2003.
There were many long times when there was no progress during the build - too hot - too busy etc.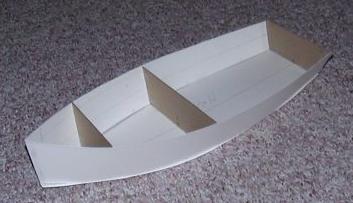 The cardboard model which was the fruit of thought.
It was carefully measured to give proper dimensions.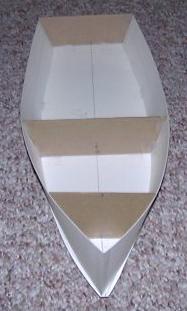 Bow-on view of the model.
---
Many small boats are made by attaching the sides at the stem. Then bending them around a middle frame, and attaching a transom. During this construction I found that this does not work well with a long piece of thin, floppy plywood. The thin plywood does not have enough rigidity to form a long fair curve.
The first part of the project involved scarf jointing two 4x8 foot pieces of quarter inch plywood together, then ripping the resulting piece in half, on a mild diagonal to form the sides.
A stem was made from a short piece of 2x4 cut at an angle determined by measuring the cardboard model.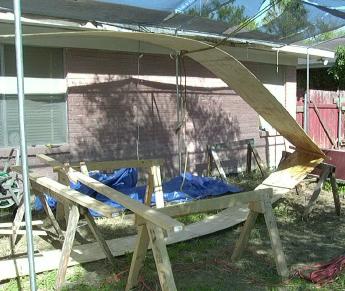 20 November 2002 - The way NOT to attach sides to the stem of a boat.
This attempt went badly because I attempted to do this alone, during my lunch hour from work. If you ever get a wild idea and attempt this process, have at least 2 friends to help. If they are good friends they will tell you that you need to stop and make at least a rudimetary building form. If they are as reckless as you are, and you are very lucky, you might have a success. Working alone you are doomed.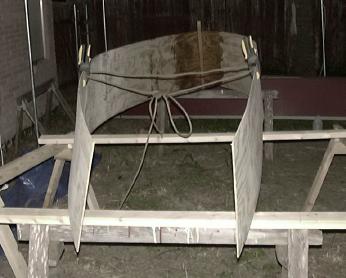 21 November 2002 - The floppy sides are attached, and the hull, is upside down.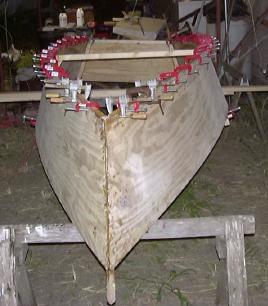 24 November 2002 - The chine logs are attached.
The transom is temporarily fastened, as is the center frame.
This was done just to give shape to the hull and give curveture so that the chine logs can bond with a proper bend.
Some years ago we tried to fasten chine logs, then bend, and managed to shatter the side of the boat we were building.
Lesson learned at that time was - do not try to bend a laminated structure.
If you look closely you can see the warp in the hull. This was caused by a slight inaccuracy in the attachment to the stem.
To repair this problem the stem was sliced lengthwise in half, repositioned, then screwed and re-glued.
.
---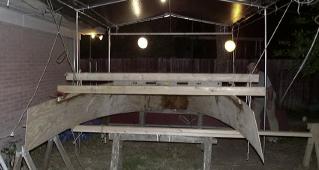 3 December 2002 - View from aft, after re-attaching stem halves.
Note the sides are suspended to keep them in place while they are manipulated in to place.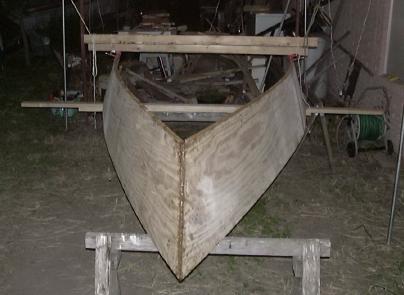 3 December 2002 - The sides are attached to the stem.
This is after the stem was split and re-aligned.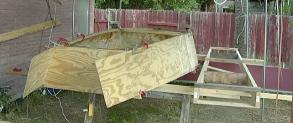 14 December 2002 - The transom is attached.
The extra from the sides is not yet trimmed off.
The idea is to build this boat well under 14 feet.
Under current law, as it is enforced, sailboats under 14 feet are not required to be titled or registered in Texas.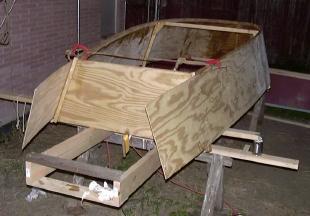 The boat now rests on its building base.
---
To Part 2a of this series - 13 Foot Boat.
To Part 2b of this series - 13 Foot Boat.
To Part 3 of this series - 13 Foot Boat.
To Part 4 of this series - 13 Foot Boat.
To Part 5 of this series - 13 Foot Boat Launching and First Sail.
To Part 6 of this series - 13 Foot Boat Modification and Sailing.
---
Return to Home Page
- update 31 Sept. 2012