PARADE OF BOATS
NEWPORT HARBOR

Newport, Rhode Island, USA
JUNE 27, 1998

On June 27, 1998 at 1100 hours with a cross wind freshly blowing across Newport Harbor, the parade of Slocum Society boats motored through the inner harbor led by Jake Farrell, harbormaster, with horns ablowing and blue lights aflashing.
The "Spray of St. Briac, " captained by Guy Bemardin and accompanied by his first mate, Mitzi and son, Briac led the parade all decked out with flags & burgee flying and touting a fresh coat of paint was truly a grand tribute to Slocum.
Close on the transom of "Spray St. Briac " was Spray, "Lucia " skippered by Mo Jenkins, builder, Paul Fay, and designer Bruce Roberts-Goodson.
Our Rear Commodore, Mike Martel, in his "Privateer " followed cautiously to pick up any survivors! Yves Gelinas in his famous, " Jean du Sud " hauled all the way from Montreal was a delightful sight. Paul and Joanne Archer followed in their "Pipe Dream " and bringing up the rear was Mel Lash with his well appointed power boat.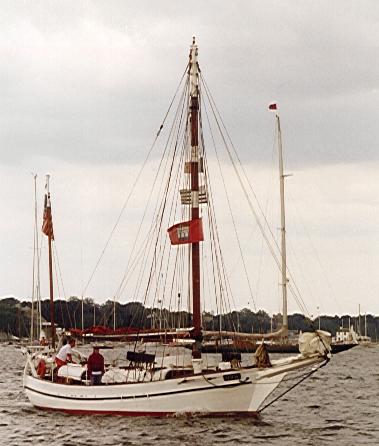 photos by Tommy Thomas of Seattle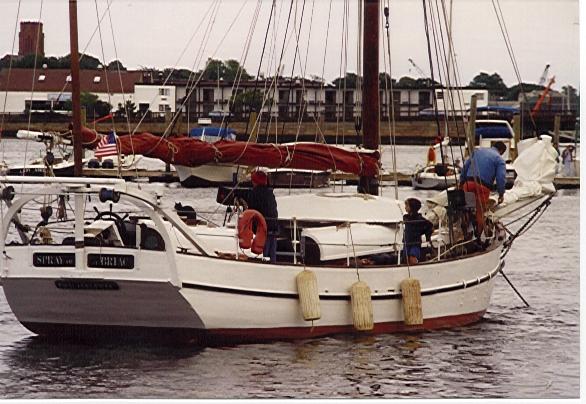 It was a grand parade with many Slocum members cheering from the IYRS docks!

Through the generosity of the International Yacht Restoration School (IYRS), the wharf was made available for ceremonies following the parade. Dr. Robin Wallace graciously welcomed attendees as well as served as Master of Ceremonies.

Mayor David Gordon welcomed the Slocum Society and their distinguished guests to Newport and honored Capt. Slocum's memorable return in 1898. Our hostess, Elizabeth Meyer, of IYRS confirmed to the group she had passed public speaking with an A+ and made everyone feel very comfortable at her IYRS facility.

The reception was high-lighted by the renown ocean racer and announcer, Gary Jobson, who delivered an elegant address loaded with color and humor that suited the occasion.

Solo sailor, Tony Lush, made a heartfelt address that honored the other solo sailors who attended the reception. Among those were Dennis K. Warner, Leo White, Yves Gelinas and David Sinnett- Jones.

Thanks very much, Dr. Wallace, chairman of the Rhode Island State Yachting Committee for your assistance and single handing the entire reception.

-----------------------------------------------------

Click here to return to the main Slocum Society page.