Port Aransas Wooden Boat Fest 2018
Official website Port Aransas Wooden Boat Festival is planned to be 6 - 8 April 2018
in Port Aransas, Texas
This year the boat Fest will be 608 April 2018
The damage done by Hurricane Harvey to Port Aransas, Texas on 25 August 2017
is taking a long time to fix - There are hotel/motel rooms available
There are many fewer places to eat than there are normally, but there are a number of good places to have a lunch or supper.

This page is a preliminary stub to be filled in during and after the event.
The event is planned to be in Roberts Park - as it was in previous years
adjacent to the Port Aransas yacht basin / harbor
and just east of the Port Aransas Ferry docks on the North end of the Port Aransas
and Mustang Island, Texas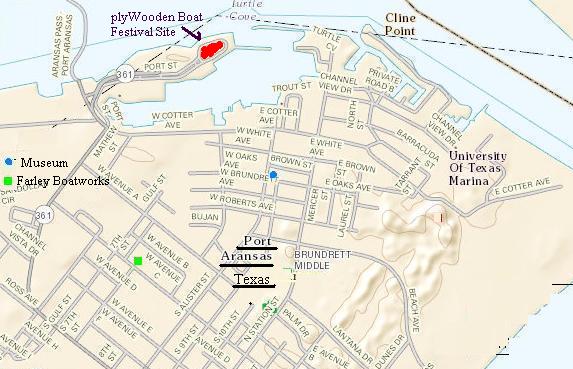 old website below
OLD official website - www.portaransasplywoodenboatfestival.org
----
NEW one is Port Aransas Wooden Boat Festival for 6-8 April 2018 - - note the slight change in the name of the event.
This event was created by Duckworks and the Farley Boat Works (part of the Port Aransas Museum)
The Texas chapter of the TSCA Traditional Small Craft Association was also involved
Sponsors may incude -
Farley Boat Works (part of the Port Aransas Preservation Historical Association - PAPHA )
Duckworks (boatbuilding supplies, plans and more)
J.O. Woodworks (rudders, daggerboards, tillers, etc.)
Petit marine paint and finishes
Bateau . com
Boat Builder Central . com
Small Craft Advisor magazine
Texas 200 Sailing Club
U.S. Power Squadron (boating safety)


---

Kodys Restaurant and Bar 2034 State Hwy 361, Port Aransas, Texas - (361) 749-TACO (8226)
Giggitys Restaurant 722 Tarpon St. Port Aransas, TX, 78373 - (361)749-3663 (FOOD)
Shortys restaurant 823 Tarpon Street, Port Aransas, Texas 78373 - (361)749-8224

---

Port Aransas Beach Club
Stewart Title
Legal Shield - insurance Gae Calloway
Whitten real estate

-----------------


Presentors -