Trailer - Modifications
R pod 173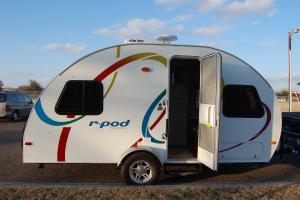 The R pod starboard side, door open.
- attached a holder to accomodate 2 - 20 lb. propane tanks - purchased tank cover
- made cover for spare tire
- strung strings across front wall to hang map - using Command Strip hooks
- rebuilt corner cushions in dining area from corner cushions to rectangular ones easier to stow.
- re-cut additional bed cushions from a large one previously used tent camping.
- removed top of dinette table and constructed a smaller one from 3/4 inch ply
to make it easier to get into the seating.
- made bed boards for the front double bed (since table top will no longer work.)
- mounted 1/2 in. dia. pvc pipe closet rod in shower area - supports attached with sticky Command Strips
- added a net opening and thin plywood back side to make area above microwave into storage.
- added four 12 volt power plugs to make 12 v power available inside - fused them
a double behind the fold-down couch
one under the refrigerator next to the heater vent
one under the dinette seat next to the wall to the shower
one under the seat just inside the door.
- added hanging points where the ceiling is reinforced, allowing hanging 12 v fans to move air
allowing hanging 12 v fans to move air when off 30 amp 110 v power
- cover for propane stove allowing more work space when not using the stove.
- longer sewer pipe holder
- - - - - - - later modifications - - done while on-the-road - - - -
- raised the jack by the hitch by adding two 2x4 spacers, so bottom of jack will not bottom out and be damaged.
brother-in-law at 2nd stop on vacation has a nice woodworking setup.
- moved the original smaller sewer pipe holder from under the frame to on top of the newer longer one
at the original location it touched ground and was damaged when there was a sudden dip in the road.
- bought a small folding table to use instead of original table when eating
added small eyebolts to secure it against the kitchen counter when not in use.
- made a hanging drop light from a 12v LED bulb, a bit of wire and a 12v plug
so I can read in the evening when others are trying to sleep.
update - - 4 June 2011 - - - 12 May 2012 - - - 15 July 2013

---
R pod floorplan - large file -
R pod floorplan PDF file
Sylvania microwave & convection oven manual - large PDF file
To R-pod Trailer main page
the long Summer 2011 vacation (western USA) files
Summer 2012 vacation (eastern USA) files