The MOLLY a cat ketch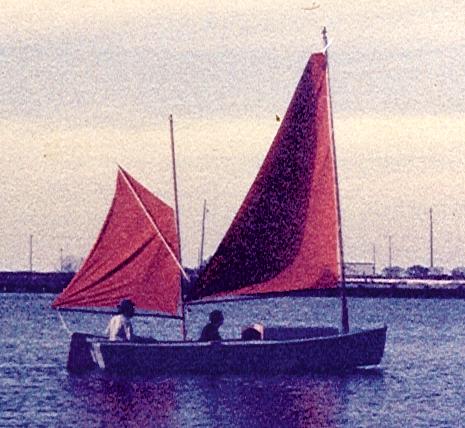 Photo the 16 ft. 8 in. flat bottom skiff Molly.
Taken in January 1980.

I built this skiff from "Aunti Helen" plans from a Motor Boating Ideal series plans book. That plan was modified from a single centerboard to bilgeboards - one centerboard on each side, inside the hull - positioned as far out as one can, the forward edge of the bilgeboard case just about touching the chine.
Molly sails well, and doesn't need much board down to track well.
The cuddy is detachable. It fits over the carlins and bolts to the deck via some pieces of wood shaped like a J. This was done so that there would be no holes in the deck to leak spray from the top of the deck into the boat.
Click here for other photos of the Molly detailing the hull - taken Nov. 1999.
Construction of the Molly
Launching and first sail of the Molly
---
Click here to go to the web page with the photo of the Pogo an 8 ft dingy.

Click here to go to the web page with the photo of the Albert an 8 ft dingy.

Click here to go to the web page with the photo of the Drake a 25 ft sailboat.

-