Port Aransas, Texas plyWooden Boat Fest 2014
17 - 19 October 2014

official website - www.portaransasplywoodenboatfestival.org
--2--
This event was created by Duckworks and the Farley Boat Works (part of the Port Aransas Museum)
The Texas chapter of the TSCA Traditional Small Craft Association was also involved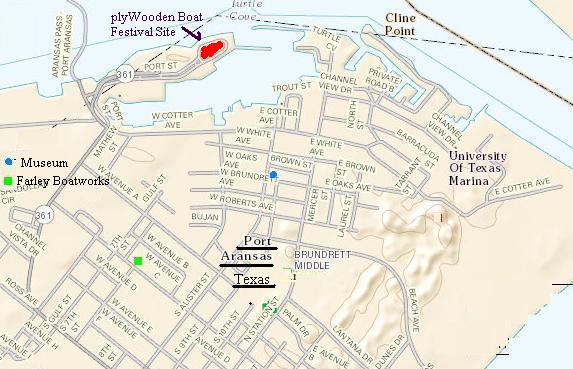 Page 2 - - Some sights at the Festival
~ ~ ~ ~ ~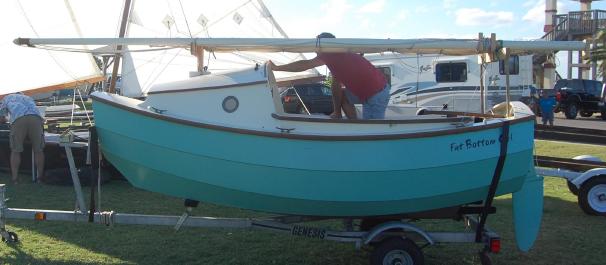 a Scamp named Fat Bottomed Girl
This boat sailed the Florida 120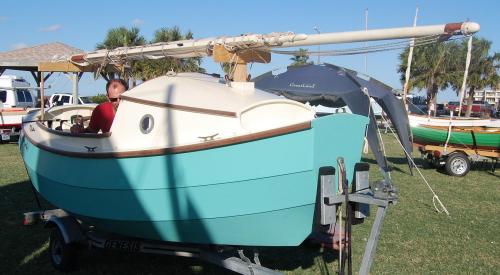 The Mast has interesting fittings for its foot and the partners where it goes through the deck.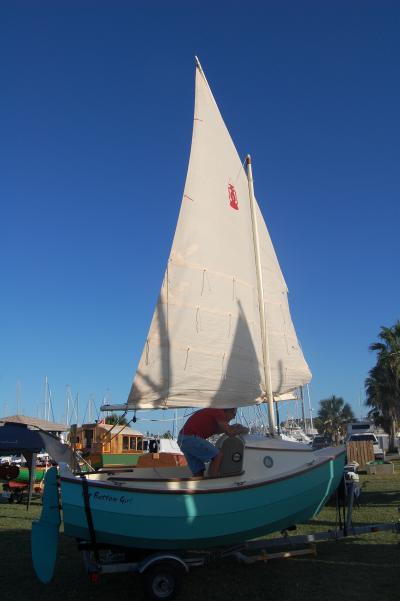 ~ ~ ~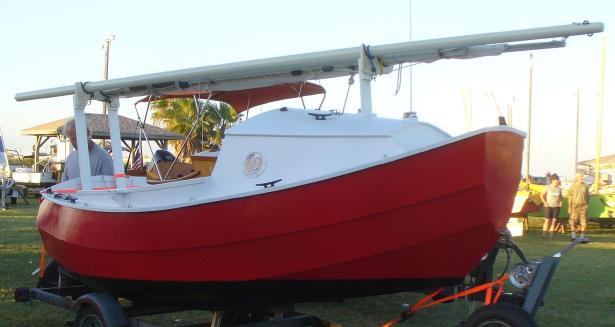 another Scamp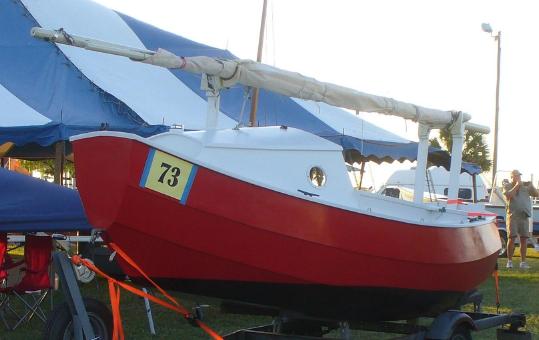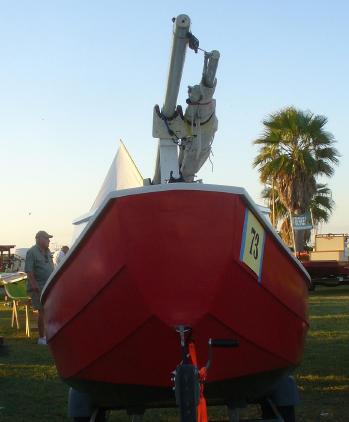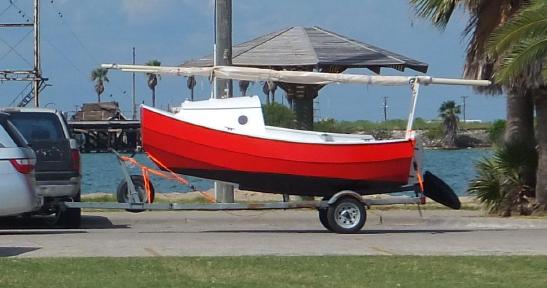 this Scamp on its way back to Oklahoma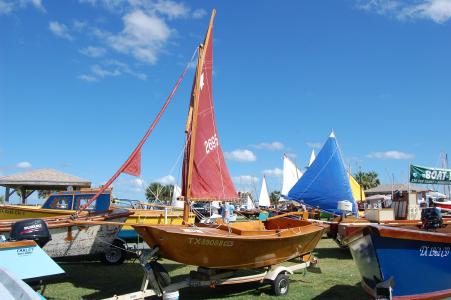 -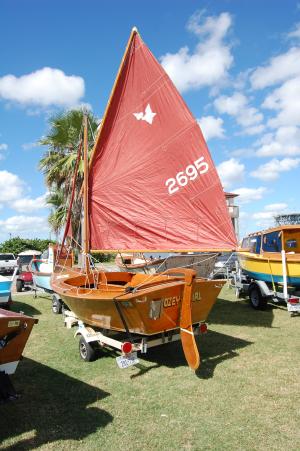 A beautiful San Francisco Pelican - a huge boat for 12 feet
This one sailed the Texas 200 a few years ago.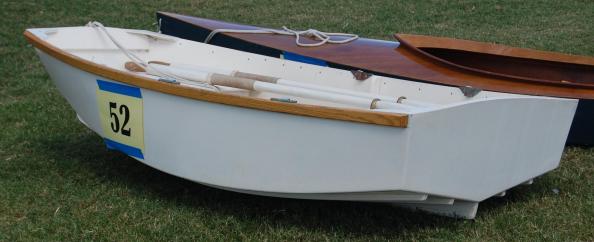 Mini-Paw dingy - B and B design


Birder Kayak - B and B design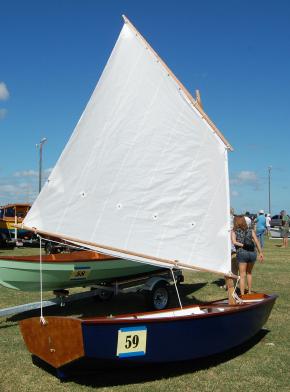 -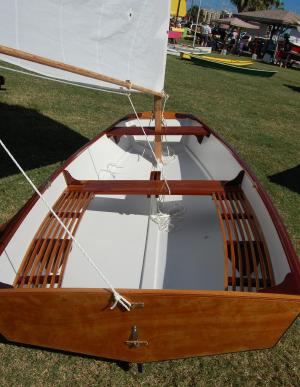 a Saboteer dingy -- Glen-L design -- 10 ft long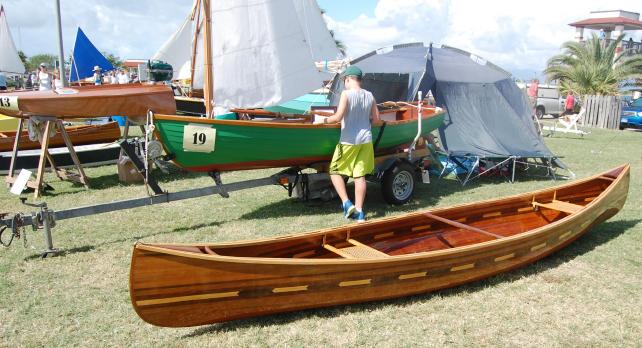 3 boats - no.13 tiny racing outboard -- no.19 green lapstrake lugsail boat -- no.84 strip planked canoe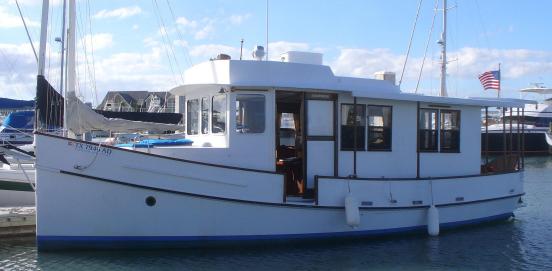 the big boat of the Festival - no. 23 - Trawler Coastrider of Padre Island Texas.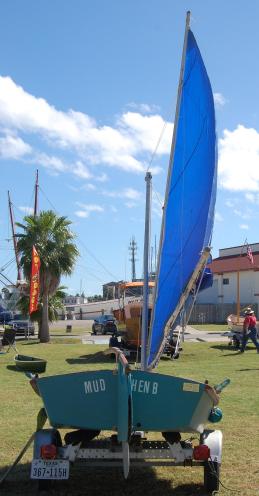 -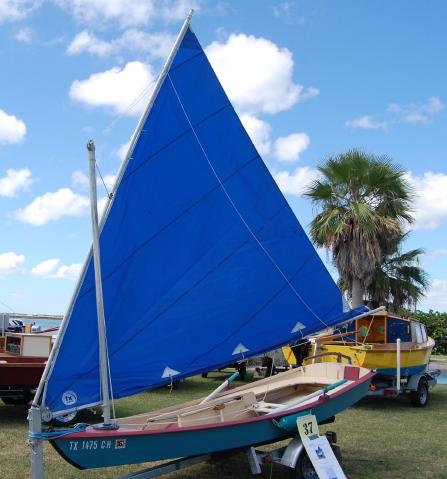 Mud Hen a Chesapeake crabber 14 ft. designed and built by Joe Garbutt of Ingleside on the Bay, Texas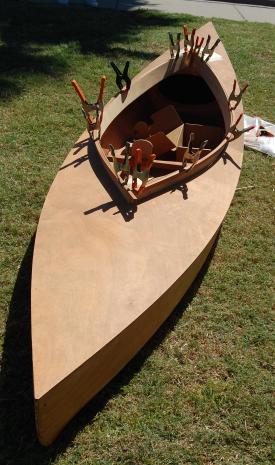 boats in-process were welcomed at the Festival. no. 39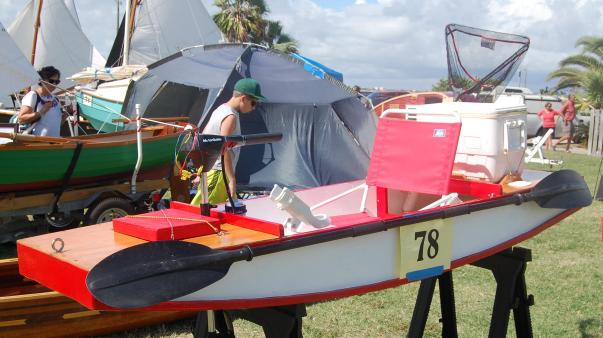 a serious little fishing machine - electric power - paddle backup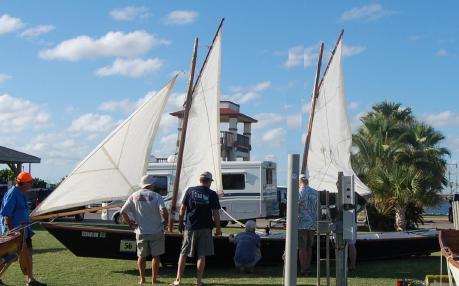 The incredible Bolger designed folding schooner no. 56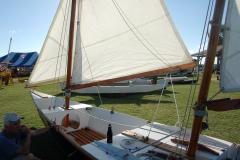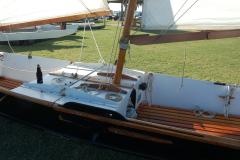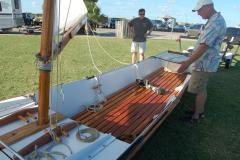 It folds in the middle down to a 14 ft length for easy trailering - The hinge is massive.
It also is a very fast sailer.


A standard modern Farley Boatworks skiff - no. 26 - well done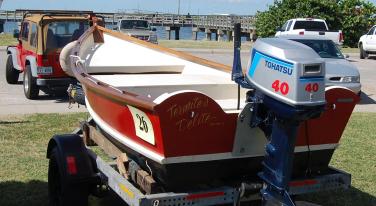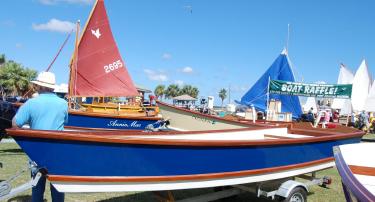 more boats from Farley Boatworks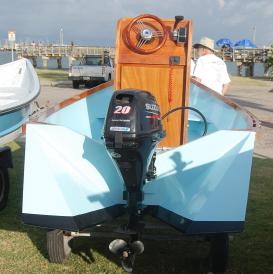 -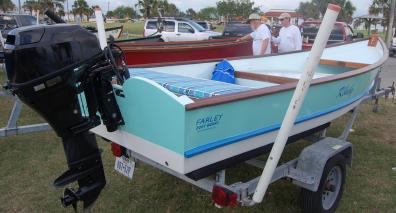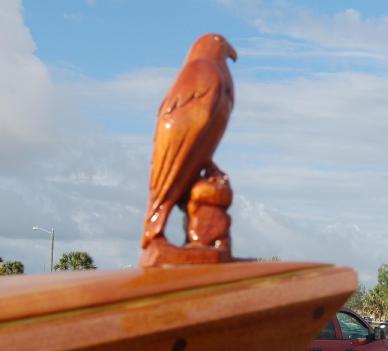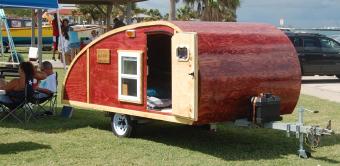 an unusual entry
home made plywood teardrop trailer - no. 76 - It would float if you put it in water.
The person who submitted this has made numerous plwyood boats and has done the Texas 200 several times.
---
The Festival is located in a harbor which exits into the Corpus Christi Ship Channel a very busy shipping lane.
Several tankers and freighters passed each day during the event,
as did some remarkable pusher barge tows and one large sea-going barge being towed in to port.
People operating pleasure craft need to be especiall viligent to avoid catastrophy.


LEWEN TOUCAN 289 ft long. An advanced multipurpose offshore support vessel - owned by EMAS AMC - Panama registered
perhaps the most interesting big vessel seen this weekend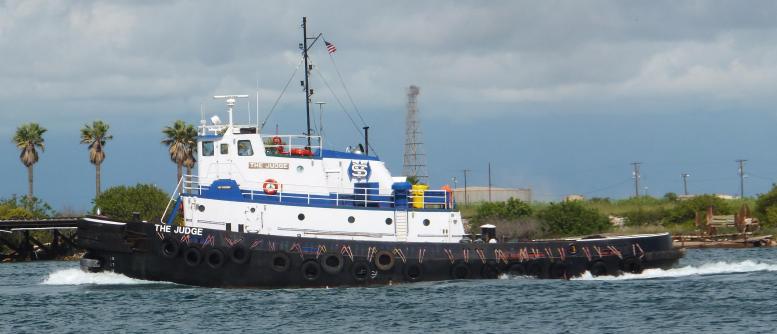 tugboat The Judge 87 ft. owned by Sunderman and Young of Houston TX built 1977 Todd Shipyard

tanker Agena 598 ft. long. 37,583 DWT tons. built in 2011, registered in the Marshall Islands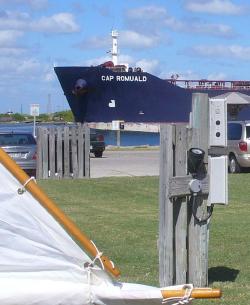 .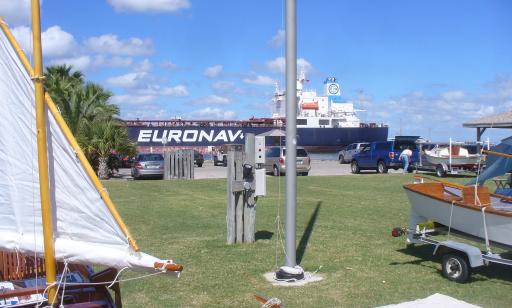 looking though the exhibited boats at a crude oil tanker on the Corpus Christi Ship Channel.
The Cap Romuald 890 ft. long, 146,639 DWT tons. built 1998 by Samsung. registered in Greece


tug Heide Moran 118 ft. owned by Moran Towing, built 1975 by McDermott Shipyard, Morgan City, LA
Portsmouth Oceangoing single hold dry bulk barge 418 ft. 14,700 tons built 1996 owned by Moran Towing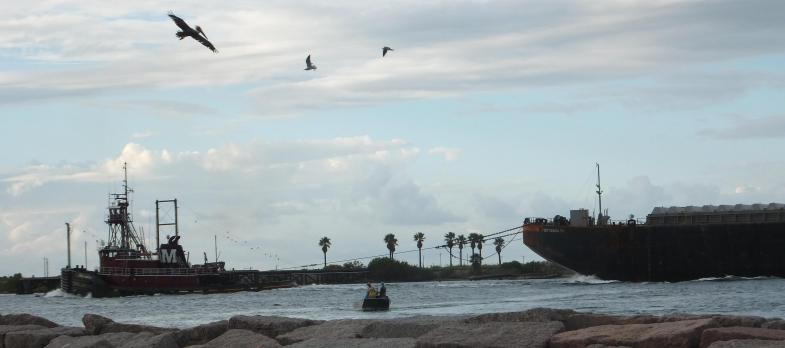 The situation not as dire as it looks. One MUST not ever get between an ocean going barge and its tug. At sea the towline is let out a great distance.


Several pusher barge tows passed by. Some with a single barge, some with multiple barges.
Do not ever get in front of one of these. They can not stop in any reasonable distance, and do not turn easily.

~ ~ ~ ~ ~ ~ ~ ~ ~ ~ ~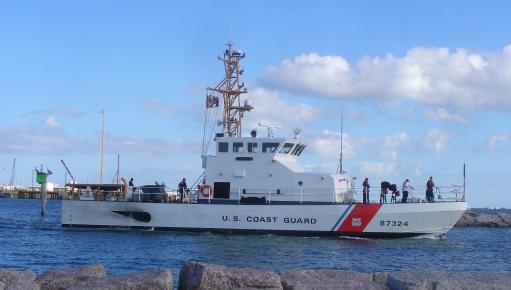 Coast Guard Cutter (Marine Protector class coastal patrol boat) USCGC Steelhead 87 ft. stationed in Port Aransas, TX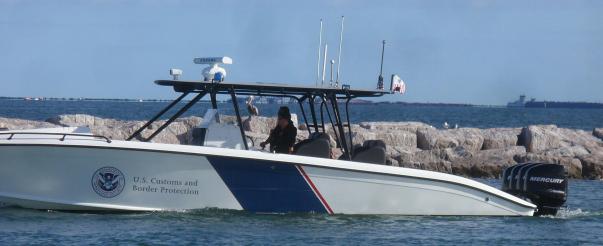 Homeland Security - 4 outboard motors
~ ~ ~ ~ ~ ~ ~ ~ ~ ~ ~